Shooting BBC Horizon BAFTA-winning 'Making of Natural history Film'
.
Yes that's me in the middle
with Hogwart. His trainer is to the right and my soundman Paul on the left.
Our

movie company in Soho
got a call from California, sometime at the beginning of the Seventies. It was the management of Santana. They wanted us to follow the band tour of Europe. We already had a reputation for rock and roll documentaries – rockumentaries, if you will, and to get us on board they promised us 24 hour access to no holds barred madness. But they would own the material.
A great deal of craziness ensued, and nothing was off limits. But let's skip ahead to Milan...
We were relaxing in a luxury hotel with the band and entourage, having flown in. A small convoy of trucks was bringing the stage equipment over the Alps from the last gig in Montreux. There seemed to be problems getting through customs, but everyone had said it would be sorted out. Baz, the lead driver, was not someone you could pull a jobsworth* on. I'd seen him in action already in Hamburg.
Chris, my assistant, was getting the camera ready for the evening gig, Tony the soundman took time to catch up on logging the tapes we already had. Then, an urgent knock on the door. It was Mike the Director/Producer.
"Get the sound and camera ready - follow me."
We grabbed our kit and set off down the hallway.
"...The gear is stuck at Italian customs. They won't make it. Concert has to be cancelled. They are talking it over with the venue people. Shoot what you can, but don't push it. It's a bit tense in there."
With that, he let us in to Stan Marcum, the Manager's, suite. Stan was a long-haired, laid back Californian who wore shades indoors and out. He had managed Santana for several years. He was a former barber. A nice enough guy – easy to work with. But he now looked distraught, sitting on his huge bed. We stayed by the door. I nodded to Tony to roll sound and flipped on the Éclair 16mm silent-running camera, but held it inconspicuously hanging down at my side. I did a slow pan from knee level around the room, while sizing up the situation.
There were two chintz rococo armchairs with their backs to us. Both were occupied by very smartly dressed, and tanned, Italians. Gold teeth, gold bracelets. They looked very polite and relaxed from what we could see. But Stan was nervous. I looked over at Mike. He gave an almost imperceptible rotation of his finger to indicate I should keep rolling. I tried to move around into the room to get a side view of the action. What the Italians were saying, calmly, was that equipment or no equipment, the gig must go ahead. Milan was full of musical instruments, they said.
"Rent some. You have no choice".
I was finally getting the picture. These men were making an offer that Stan could not refuse - if he wanted to walk on two legs. We were in the presence of the Family. The Éclair camera took this moment to develop a slightly noisy magazine. The raw film was running through the gate with a noise like a distant sewing machine. Paul winced. He could hear it. The nearest Italian very slowly turned and looked at us for the first time. His eyes lowered to the camera and then slowly came up to meet my eyes. I thought about brown trousers. His pudgy forefinger went up to his perfect white collar and I saw his ring glisten in the light from the window. He put his finger in his collar and pulled it away from his neck, as if his jugular vein was now so pumped with blood that his collar was constricting. I looked over at Mike who had gone white and made a small shaking move of his head with gritted teeth. Enough not said. I switched off the camera and, as nonchalantly as possible, turned to the guys, and we left the room.
"Holy shit, that was close!"
I told Chris to take out the footage and can it and put it somewhere safe. I half-expected the hoods to come and find us.
I don't remember the venue of the 'concert', but it was a concrete auditorium with several tiers of balconies in a horseshoe round the stage. A sort of East Berlin à La Scala. There were a few measly amps on stage. It looked like a työväentalo pop evening transported to a large arena. We decided to roam the corridors and check out the audience and film the stage from above as it was before the show. The audience was angry. The rumours had spread. There was booing and chanting. Our Milan experience was rapidly dipping into nightmare. The band came on stage and apologized, explaining about the customs snafu. The whole place erupted in whistling. The band picked up their instruments and started to play. You could hardly hear them. We decided to head back downstairs as the audience was now throwing stuff. Apparently two large blocks of concrete also landed on the stage.
Backstage was panic. Stan came in.
"Everybody back to the hotel right now. Pack your stuff. We're leaving for the airport."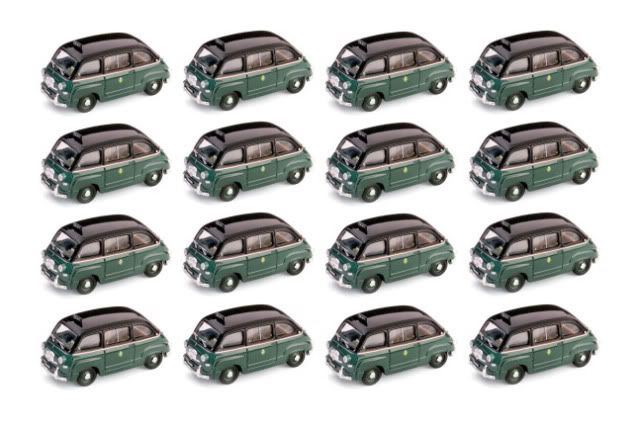 And half an hour later we came out of the hotel to find 16 green and gold Fiat 500 Milano taxis. Everyone piled in, 3 to a car, with the luggage. We also had all the film equipment on our laps and all around us.
Boarding that flight at Malpensa was like cheating death (or at least severe inconvenience). The tour was over, and we were on our way back to London. Marcum took all the film back to San Francisco to be processed. We never saw it again. He was thrown out as manager months later, at around the same time that the Montreux Casino was burning down to give rise to the song
'Smoke on the Water'.
Perhaps some day someone will find all the cans of negative in storage in Oakland CA and make a documentary that Carlos Santana would now have to disown to protect his spirituality. (and in truth he was well-behaved throughout the tour). But the rest of the band put Spinal Tap in the shade for their sheer mayhem.
*jobsworth = a minor and obstructive official: "Ooh I can't do that sir - it's more than my job's worth"